Location of Shangcang Industrial Park
  Shangcang Industrial Park of Spirits & Green-food Processing has unique location advantages .It is located in geographic center of the Jingjinji megalopolis, with the distance of 80 km west of Beijing, 88 km south of Tianjin center,and 90 km east of Tangshan. For the customs, popularity, Geopolitics are similar to Beijing, Shang cang is called" the outskirts beyond Beijing". Within 100km radius of region circle, there are three cities (Beijing, Tianjin, Tangshan) with over five million population, two international airports (the Capital International Airport, the Tianjin Binhai International Airport), and one Super-large cargo port(Tianjin Port)。 The Jing Ji Yang urban agglomeration is a huge consumer market, with the favorable conditions of internal attracting and external exporting that could link sister cities not only in North China but also in the north market.
  Shangcang Industrial Park of Spirits & Green-food Processing is among Beijing, Tianjin and Tangshan. It relies on the unique advantages of location, convenient 3D-transportation, highly intensive scientific and technological research system, Developed convenient Transportation network and the huge consumer market, an industry park full of the vigor and vitality is on the rise.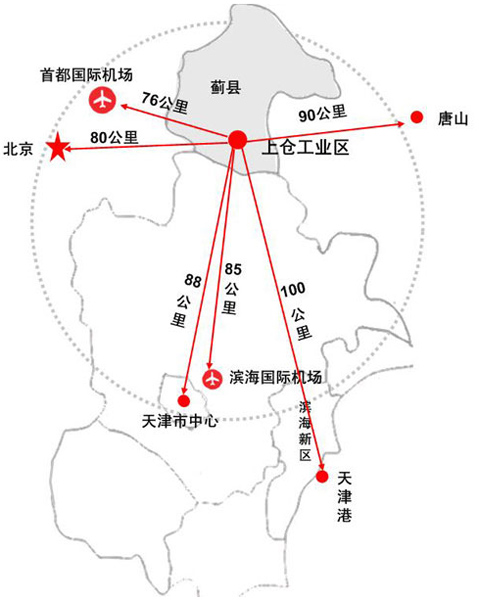 Industry of Shangcang Industrial Park
  Shangcang Town has a deep industrial base and rich cultural heritage of White wine brewage. Since Qing Dynasty, Xingtaide Shaoguo, a kind of white wine brewed by Shangcang people, had been one of ten most famous Imperial tribute wines. At present, Shangcang wine culture has declared the Intangible Cultural Heritage to the national authorities.
  Industry positioning of the Park is to be the leading industrial base of spirits & green-food processing in Tianjin even in the whole Northern China. It focuses on the development of White wine brewage, fruit wine brewing, beer brewing, soft drinks processing, green-food (grains, vegetables, edible mushrooms, dried and fresh fruits) processing and manufacturing and the production of high-tech products (Electronic equipment manufacturing industry, Advanced equipment manufacturing industry, Aerospace equipment manufacturing industry, Biological medicine and medical equipment manufacturing industry, New materials manufacturing, New energy and energy saving equipment manufacturing industry) and so on.
  Nine Functional Divisions: Liquor industrial zone, Fruit wine brewing zone, Alcohol processing zone, Beer brewing zone, soft drinks industrial zone, Green-Food processing zone, Wine culture displaying zone, Warehouse Logistics zone, and Hi-tech products producing zone.