Zhonghuan (zhōng huán xiàn 中环线) is a road encircling the city of Tianjin. The road is lined up with an endless array of modern buildings, parks and small gardens. Lush plants and trees provide a cool pleasant shady canopy. People like to say that Zhonghuanxian is like a colored ring making the city even more enchanting.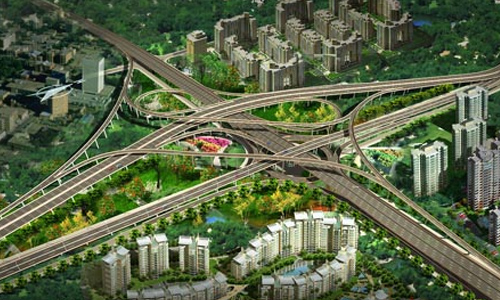 Zhiyuan Tower (zhì yuǎn tǎ 致远塔)
It is in the north of the Beining Park, hich has nine stories and is 74 meters high. Inside it are paintings for appreciation. But it also offers a good view of the outside.
Beining Park (běi níng gōng yuán 北宁公园)
Located to the east of Tianjin North Railway Station, Beining Park was originally built in 1906 for botanical purposes. Drawing upon Chinese traditional garden building techniques, the park features some neatly arranged gardens and pavilions. A library, a theater and a swimming pool are also open to the public.
Taohuadi Garden (táo huā dī gōng yuán 桃花堤公园)
It is located in Hongqiao District (hóng qiáo qū 红桥区). In springs, the sight of the peach blossoms in full bloom and the green shady canopy of willows would attract a lot of literary scholars to come here for poem recitals. Over 800 peaches on the meandering dyke are interspersed with green willows. The park also comprises an undulating and uninterrupted array of architectural structures in classic national styles.
Renmin Park (rén mín gōng yuán 人民公园)
Located in Hexi District in downtown area, the park covers an area of 14.2 hectares. The park comprises rockwork, streamlets, pavilions, pagodas, amusement areas, and animal appreciation sites. Fengting (fēng tíng 枫亭) is in the center of the park and is not an imitation.
Xigu Park (xī gū gōng yuán 西沽公园)
The park is located in the northwest part of the city. It was built in 1958 and covers an area of 32 hectares. It is dominated by natural landscapes of vigorous trees and plants. The park does not have a long history, but Xigu was already famous for its beautiful scenery in the 19th century.
Changhong Park (zhǎng hóng gōng yuán 长虹公园)
The park is located in Nankai District and covers an area of 34 hectares. Just inside the front gate is a rockwork. Beside the rockwork is a pond surrounded by drooping willows in neat rows. In the west of the park are recreational facilities including a skating rink. Adjacent to it is Fenghua Palace, a complex exclusively conceived for recreation, relaxation and shopping.