The Haihe River (hǎi hé 海河) is regarded as the 'mother river' of Tianjin. People visiting the Haihe River today appreciate its scenic beauty as well as its historical and cultural atmosphere. Regions along the river present beautiful views starting from Sanchakou (sān chà kǒu 三岔口) to Daguangming Bridge (dà guāng míng qiáo 大光明桥).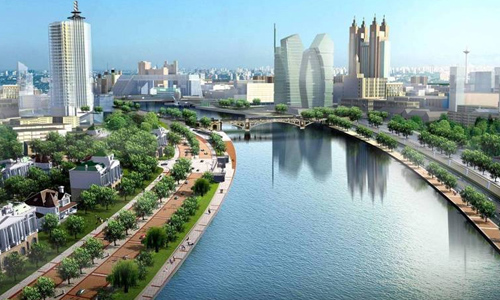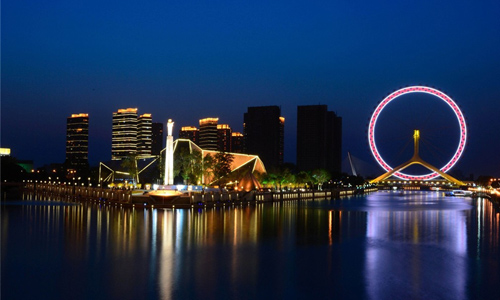 Haihe Park (hǎi hé gōng yuán 海河公园)
Two groups of bronze sculptures are particularly noticeable. Verdant trees, beautiful blossoms, green lawns, long corridors under ivy-laced frames, fountains, and sculptures decorate the park. Residents prefer to spend their leisure time ambling there.
Haihe Cultural Square (hǎi hé wén huà guǎng chǎng 海河文化广场)
Focusing on cultural traditions and folk customs of Tianjin, the designer endowed the square with a style of solemnity. The high-tech lighting, the causeway pavement and the wooden floor make the square a shining pearl of the Haihe River bank.
Haihe Fountain Amusement Park (hǎi hé pēn quán gōng yuán 海河喷泉公园)
There is a spectacular colorful fountain in the central area. In addition, in this playground are three luxurious sightseeing ships, and several speed boats offering tours along the Haihe River. Visitors can also enjoy a boat excursion at night. Light from both banks melts into the water and drifts off, like a rainbow.
Wanghailou Church (wàng hǎi lóu jiāo táng 望海楼教堂)
It is located at the north bank of the Haihe River is one of China's cultural relics. In the Qing Dynasty, there was a Wanghailou Tower, a pleasure location for emperors who made trips to their provinces.
Laolongtou Rail Station (lǎo lóng tóu huǒ chē zhàn 老龙头火车站)
It is recorded as the first rail station in China's ancient commercial ports after the Second Opium War. Together with the establishment of other constructive projects at that time, it is eyewitness to Tianjin's development.