The Tianjin Binhai New Area brings innovation into administrative and social reforms by increasing efficiency and taking on new public projects, said Qin Haiying a researcher from Nankai University's Binhai Development Research Institute.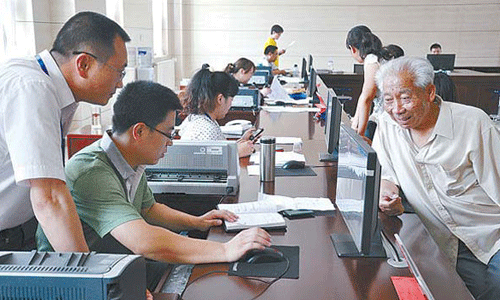 Among the novel features that characterize the new area's administrative approach are approval service centers, governmental divisions dedicated to handling applications for business and political affairs.
This year, the centers have handled more than 50,000 applications and administrative affairs. The average duration of the procedure has been shortened from 8.75 days to 5.74, a 34.4 percent increase in efficiency.
In 2011, construction was completed on Taida Apartment in Binhai New Area, China's first indemnifactory housing project, a form of government-subsidized affordable housing. The project has benifited more than 1,000 families. Wang Huan / For China Daily
A man applies for services inside one of the centers the Binhai New Area has set up in communities to meet the needs of senior citizens and migrant workers. Provided to China Daily
"It used to take two to three hours to commute between my company and downtown Tianjin to acquire a permit for drug subcontracting. And we wouldn't receive approval for the permit usually until two to three days later," said an officer at Tianjin Kingyork Group Corporation, a State-owned pharmaceutical conglomerate.
"But now, we can get all things done within a few hours in the Administrative Approval Center of Tianjin Binhai New Area, without the trouble of trekking to the downtown anymore."
The center has undertaken more than 200 approval applications that were devolved from Tianjin municipality.
It integrates administrative functions of other approval service centers to offer applicants one-stop service.
The new area has launched a 24-hour administrative service hotline for applicants to make appointments outside office hours. Online applications and door-to-door service with an appointment are also available now.
Fairness is as important as efficiency in reforming the administrative system, Qin said.
A large number of migrant workers have flocked into the new area in recent years, accounting for half of the population there.
The new area is integrating these migrants into its social security system, offering equal treatment in terms of housing, education and public health services.
"The migrant workers have contributed a lot to the construction of Binhai, and they deserve to share the fruits", said Zong Guoying, head of the New Area.
The committee of the Xiangyang Street in the new area has built a new civil service center, where migrant workers and their families can get professional training and legal assistance as well as enjoy cultural activities for free.
"We have already had a new kindergarten on trial operation, and it will officially open to the public in December," said Zhao Yuanwei, director of the service center.
More than 30 migrant workers and local residents have signed their children up for early childhood education, Zhao said.
"All courses will be offered for free. Parents can take their children to courses on music and intelligence development", said Zhao.
In addition, the new area has come up with favorable public housing policies specifically for the migrant workers.
Shang You, the 32-year-old founder of Nice Boat Animation, has been in the business for three years in Binhai. Some 70 percent of his employees are migrant workers, and they managed to buy subsidized houses in the new area. They only need 100,000 yuan ($16,000) for a down payment and carry a monthly mortgage of a little more than 1,000 yuan to have their own home.
Shang also rented two well-furnished one-bedroom apartments of approximately 60 square meters each for two of his workers, at the cost of 800 yuan a month.
"If it weren't for the favorable policies, it would be difficult for me to find employees to scale up operations," Shang said.
Over the years, the new area has built nearly 2 million square meters of apartment space across more than 30 sites for migrant workers.
Moreover, it has invested nearly 100 million yuan in building communities for the migrant workers with an area of more than 30,000 square meters and a housing capability of nearly 10,000 people. Each community is well equipped with commercial facilities, such as drug store, supermarket, restaurant and barbershop.
In the next three to five years, the new area will continue the reform to build nearly 160 civil projects on education, hygiene, culture and retirement, with an investment of 30 billion yuan ($5 billion). At the end of 2009, the new area carried out a series of management system reforms, and built one of the leanest administrative structures of the country.
The Tianjin municipal government has dissolved the working and management committees in Binhai's Tanggu, Hangu, Dagang districts, and put them directly under administration of the Binhai New Area.
"The reform is unprecedented, combining efforts of different sectors. It can speed up overall reform of the whole area", said Qin.
The reform can help the New Area better coordinate with peripheral areas, which facilitates the economic integration of Bohai Bay Rim area, said Qin.
By 2015, the Binhai New Area will strive to have its GDP break through 1 trillion yuan and total industrial output value reach 2 trillion yuan ($328 billion). It will double the figures of 2015 by 2017, local officials say.